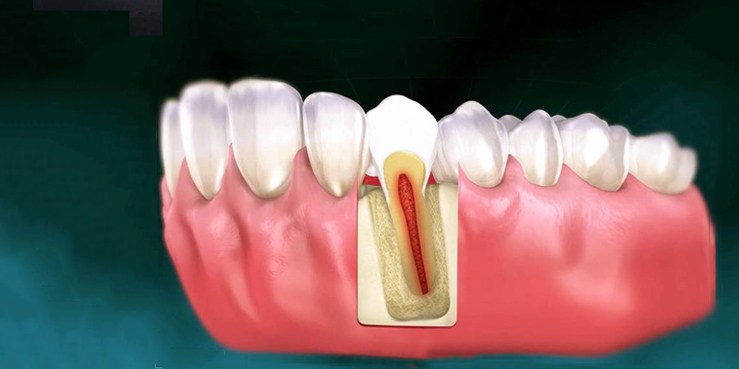 Most people will experience chronic tooth pain in certain points of their lives. Majority of the time, this pain is caused by infection of the tooth nerves called the pulp or nerve. There are a number of reasons this could happen, usually resulting from damage and trauma from advanced tooth decay. It's important to visit us at Care4Teeth if you are experiencing any of these symptoms
Sensitivity to hot and cold
Prolonged pain
discoloration of the tooth
Swelling, pain, and tenderness
What is Root Canal Therapy?
A root canal procedure is a complex but it can be performed with minimal pain as possible. The dentist will clean the decay and remove the infected pulp of the tooth. Then the tooth will be filled in and later a crown – as the tooth/teeth will be weaker than it was before.


If you're experiencing pain a Root Canal can be a good option.
Trauma to tooth
Gum disease
Grossly decayed tooth
Very large filling
Swelling
Sensitive when applying pressure
General Steps In Root Canal Therapy
Generally Root Canal Therapy (RCT) can be completed in 2-3 visits.
On your first visit:
After applying a local anesthetic, the infected pulp is removed, then we place a medicament and then seal with a temporary restoration.


On your second visit
We prepare the canals, place a medicament and seal with a temporary restoration.
If the tooth is asymptomatic, we will then insert permanent filling material into the canals (a fake nerve) and then place a permanent restoration (filling) on top.



Over time, your tooth becomes brittle after a Root Canal procedure. After all root canal cases, we recommend a Crown. We will advise this at the time of consultation before starting the treatment.
---
Cost Involved:
Costs are as advised by the dentist, this will vary according to the severity of infection and tooth position but will be discussed before starting the procedure.
The general success rate of RCT is very good – (90%-98%).
Success

rate of ReRCT is comparatively less.
Need a friendly, honest and experienced root canal in carina? Contact dentist in carina to book an appointment to avail an offer.
If you would like to book in to have a discussion with our dentist, please contact us to schedule an appointment on (07) 33982255 or fill out your details to contact us.