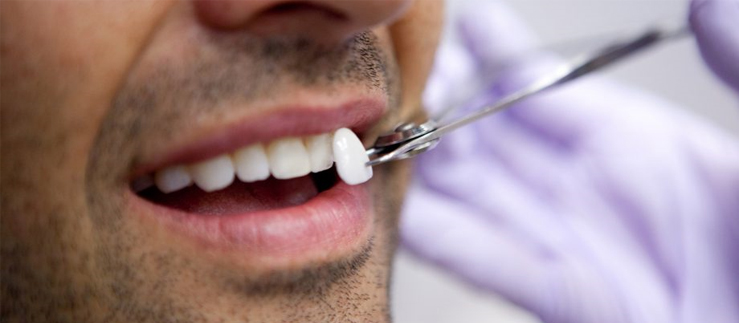 Veneers are a pain-free way to change the look of your smile instantly. Veneers are thin pieces of custom made porcelain or composite material that are bonded onto the front of your teeth. It's a simple cosmetic procedure that is used to enhance or change the colour, shape and size of your teeth.
Reasons for Veneers –
To whiten and brighten discoloured and stained teeth
Close up any gaps/spaces between teeth
Fix teeth that are chipped or broken
Align teeth that are uneven, crooked & poorly shaped

Durability (length they last)
On average, porcelain dental veneers can last a minimum of 5 to 10 years or more depending on your oral hygiene and how well you care for your teeth. Brushing, flossing daily and using small interdental brushes to clean your teeth will help increase the longevity of the veneers.
Preparation and visit length
The dentist will require 3 to 4 visits to finish your dental veneers procedure.
Visit 1 –
A consultation and planning including colour and desired shape
Visit 2 –
Preparation of the tooth, removing 0.3 to 0.7mm of enamel from the front of the tooth. An impression is then taken and sent to the lab to manufacture the dental veneers. Temporary veneers are fitted.

Visit 3 –
Permanently fitting the veneers.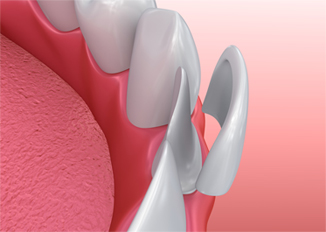 Colour selection & Alignment
Aesthetically it is recommended veneering multiple teeth at once to ensure a more pleasing result. Dental veneers are a great option for people who have uneven, badly broken or severely discoloured teeth. It is recommended speaking with your dentist at Care 4 Teeth to see if you are a suitable candidate for Veneers.
Types of Veneers
Composite Veneers
Cost lest then porcelain veneers
Requires minimum tooth removal
Quick procedure with less visits
Can stain slightly over a long period of time
More likely to break
Porcelain
More costly than composite
Stain resistant
Imitate natural tooth and appear brighter
Durable and strong
Affordability (Cost)
Veneer costs can range and it is best to consult with your dentist.
Care 4 Teeth offer payment plan options so you can have a beautiful smile anywhere, anytime.
Please know there are also other options to help enhance the appearance of your smile.
Need a friendly, honest and experienced veneer dentistry in carina? Contact dentist in carina to book an appointment to avail an offer.
Please give us a call at Care 4 Teeth to book your complimentary consultation  today on (07) 3398 2255