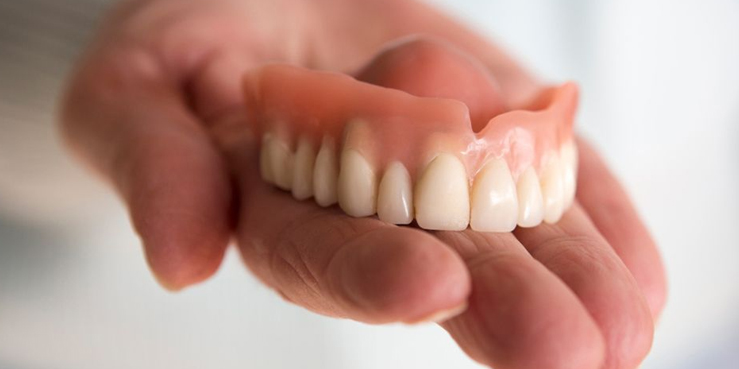 A Denture is a removable replacement for missing teeth and comes in acrylic, porcelain and metal materials. It is a more affordable alternative to a crown, bridge or dental implant.
Don't let the emotional and physical impact of missing teeth affect the value of your life.
Come and see Care4Teeth today and see how we can instantly improve your appearance with quality partial or complete dentures.
Types of Dentures:
Care4Teeth can offer different varieties of dentures to suit an individual's style and budget.
Please always seek dentists advice before choosing which option is best for you.

Complete Dentures
A complete denture replaces all teeth. Either top or bottom or both. This type of denture is made of acrylic. When fitting complete dentures, sometimes a patient may require a few adjustments.
Partial Dentures
When there are just a few teeth missing in the mouth, a partial denture is usually recommended. This can either be in the upper or lower jaw of the mouth. The two types of partial dentures we can offer you:
Metal Cobalt Chrome
A metal denture has many benefits. It offers greater strength, is more hygienic and durable than acrylic dentures. It takes up far less space in the mouth and provides further support for daily eating, chewing and overall movement. Please discuss in depth with the dentist to see which option suits you best.
Acrylic
Acrylic dentures are made up of clear and translucent resins which are a more affordable option when it comes to replacing missing teeth. Please discuss in depth with the dentist to see which option suits you best.

Immediate Denture
An immediate denture can either be complete or partial, depending on your requirements. This is the suitable option for patients that don't want to be without teeth for too long especially after a tooth extraction. If this is the case, inserting an immediate denture will help protect the surrounding tissues, reduce bleeding and aid in healing. Once we take an impression of your teeth (prior to extracting them) we can then make the customised mould for you. Then we insert the denture during your next visit, after extraction.
Important note: Immediate dentures can sometimes become loose after a couple of months due to healing of the gums and surrounding bones when the swelling subsides. If this occurs, we may need to reline the denture over a few visits for re-adjustment.
Implant Retained Denture
In the event there are no teeth present in the mouth, we can provide a solution, such as an Implant Retained Denture. By placing a few dental implants, they work as strong posts to support the denture which clips on.
Other Denture Alternatives – Dental Implant
If you don't like the idea of a removable denture plate, the best alternative to a denture is placing dental implants. Constantly having to remove dentures can be inconvenient and sometimes feel embarrassing if they slip out. If you're looking for a more permanent, stronger and durable solution, this could be a much better option for you.
Please keep in mind that not all denture patients are good candidates for dental implants. For more information, please contact Care4Teeth for your comprehensive consultation to discuss dentures.
Need a friendly, honest and experienced dentures in carina? Contact dentist in carina to book an appointment to avail an offer.
If you would like to book in to have a discussion with our dentist, please contact us to schedule an appointment on (07) 33982255 or fill out your details to contact us.